English
---
Key Learning Area
1.1  To develop students' linguistic and functional competence in the English language so that they can use the language as a tool for communication, for study, for work, for enjoyment and for personal enrichment.
1.2  To empower students with the capabilities for lifelong and independent learning, adaptation to change, and critical and exploratory thinking innovation.
Department Members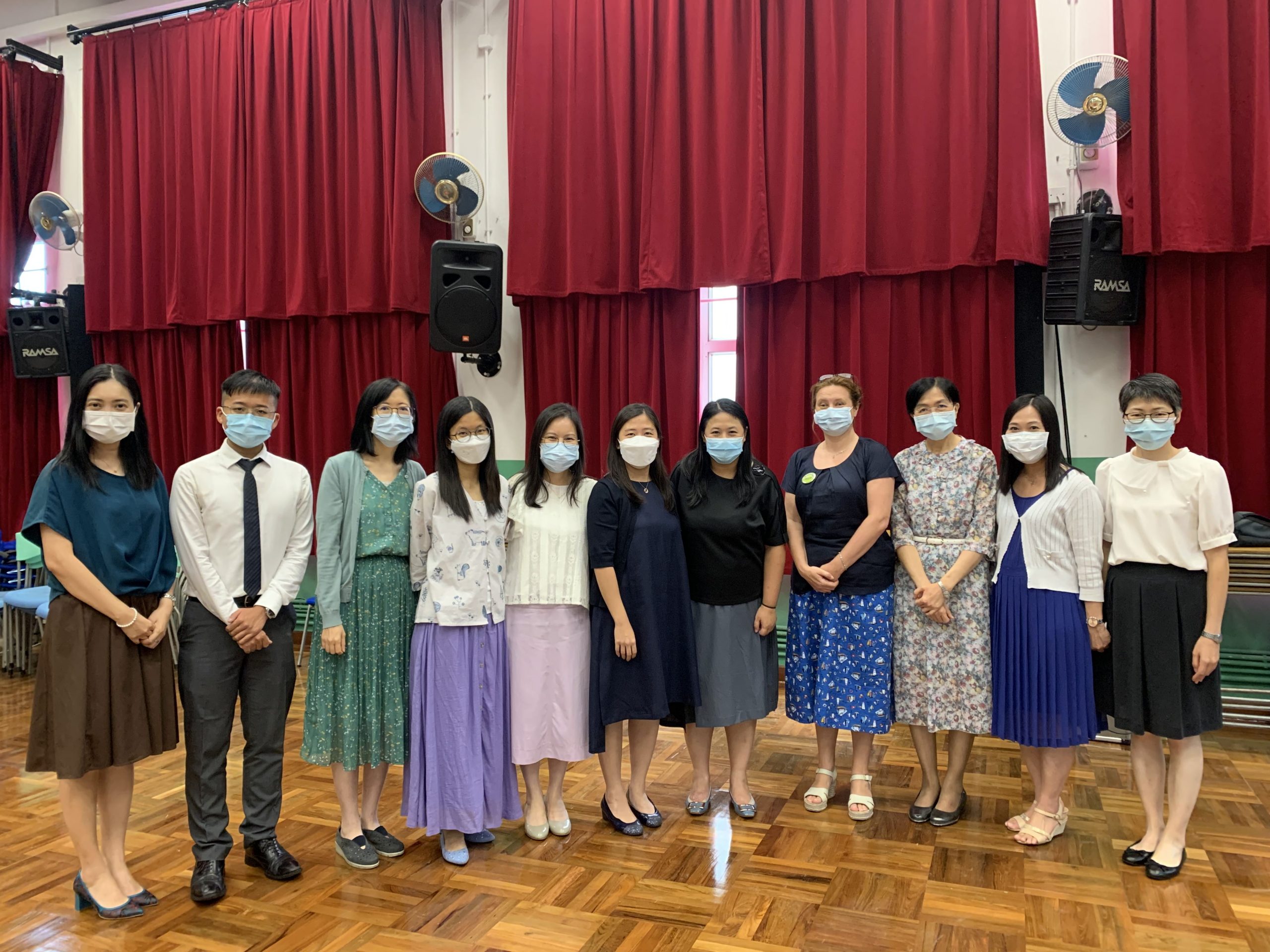 Panel Head
Mrs. Fung Lau Suk Yi Sheryl
Assistant Panel Head
Mrs. Kan Lam Wai Yi
Native English-speaking Teacher
Miss D'Eon Marcia Rose
Teachers
Mrs. Chan Wong King Shan
Mrs. Koo Kho Rebecca
Mr. Lau Hiu Long Francis
Miss Lee Yuk Yi
Mrs. Poon Tse Ka Yuk Carrie
Mrs. Pun Cheung Yee Shan
Mrs. Wong Chan Mei Kun May
Miss Wu Ka Wai Peggy
English Themed Weeks
Two times a year, the English Ambassadors organize a themed week with a range of related activities echoing the specific theme.
Over the years, we have had English December, Musical Week, Disney Heroes Week and Travels Week in addition to the weeks celebrating Magic and Adventures.
Despite the Covid pandemic and social-distancing rules, the English Ambassadors continued their effort in promoting not only the use of English but also positivity and hope to their fellow students. Before Christmas, the English Ambassadors produced a short video to spread the notion of hope.
Words of encouragement from the English Ambassadors
In March 2022, at the height of the fifth wave of the Pandemic, the English Ambassadors created an Instagram page and launched a Poem Dedication Drive. Each English Ambassador shared a poem every day with their fellow students about hope and positivity. The Drive was also an activity as a countdown to the annual World Poetry Day on 21 March. The following is the picture of our Instagram page.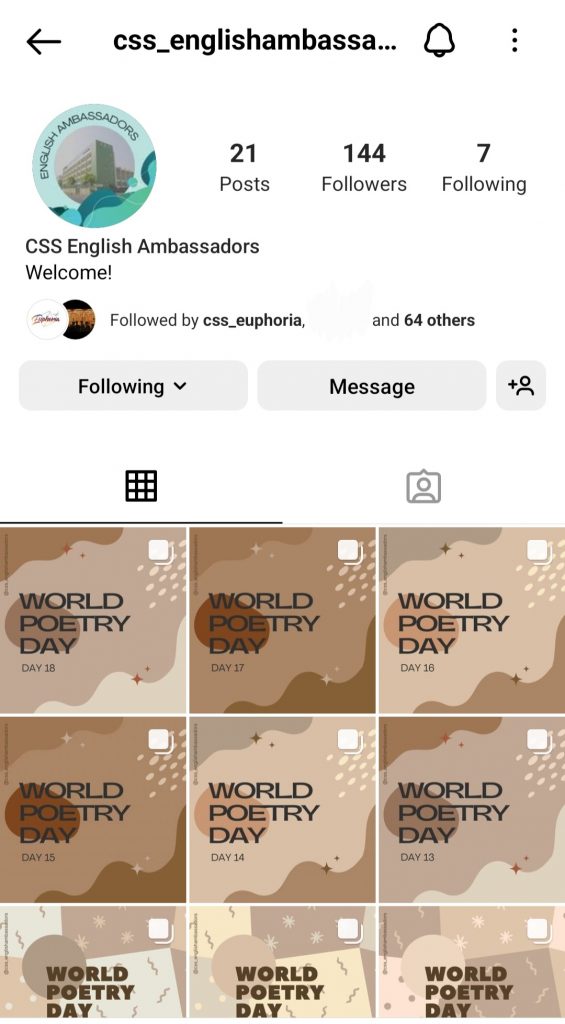 Story-sharing Corner
The Story-sharing Corner is a well-established function organized by the English Department.  It is organized about 15 times over the year for primarily S1 and S2 students, who share their books with seniors from S3 and above. Students' enthusiasm for sharing is always tremendous. The senior form student helpers also enjoy acting as "student-teachers" listening to their schoolmates' story sharing. The activity enhances both students' oral and listening skills and promotes peer support.
Story sharing promotes both peer support and self-learning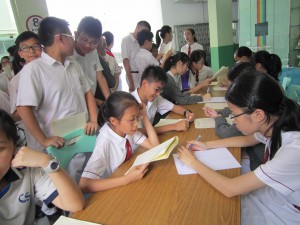 Students enjoy sharing their favourite stories with helpers
Inter-house English Debating Contest
The Inter-house English Debating Contest is an annual event for eloquent speakers across all forms to meet and challenge each other on a range of local issues. Non-debating-team members often treasure this chance to sharpen and showcase their debating skills. The preliminary round winners fought for the championship in the open area to make an eloquent English Friday.
English Room
Thanks to the very generous donation from our alumnus, Mr. Joshua Cheung, our English Room got newly furnished and relocated. A lot of thought has been put into the hardware and overall design of the room to maximize its functionality and versatility.
The colourful tables encourage group work and discussion in classroom learning in both oral and enrichment classes in junior forms. With them folded, a mere classroom is easily turned into an activity room for a range of English events, such as debating, drama, movie appreciation, English Carnival, public speaking, storytelling, book exhibition and so on, especially when armed with a platform. Meanwhile, the sofa, I.T. bar as well as the board games shipped from overseas all add a touch of chill and infuse fun into the Room, which is particularly welcoming for our Weekly Opening. The Room also successfully creates a language-rich environment with English posters, magazines and students' works posted all around.
We expressed our heartfelt gratitude for such kind donation and dedication from the donor and all teachers and students involved in the Opening Ceremony in November.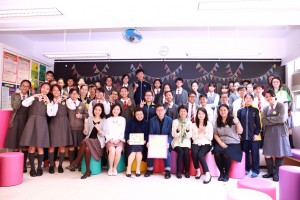 At the Grand Opening with the project donor, Mr. Joshua Cheung, our Principal, Vice-principal, English Ambassadors and English debaters and English subject leaders.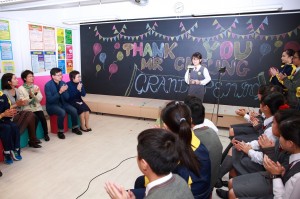 The Chairlady of the English Ambassadors (2016), 5D Enoch Wong, gave a thank-you speech in the Grand Opening of the English Room.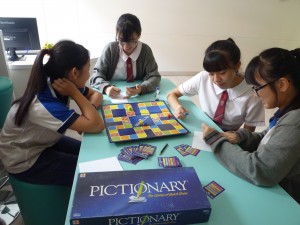 Students enjoying English board games at the Weekly Opening.
Outstanding Achievements
---
English Debating Team
The English Debating Team has been actively participating in the Hong Kong Secondary School Debating Competitions (Division 1 and Enhanced Format). The Team has won champions over the years. The Team has also taken part and shown impressive performance in other more advanced format of debating and public speaking contests such as World Schools Debating style's and English Parliamentary style's Senior Debating Championship (SDC) and Junior Debating Championship (JDC), World Individual Debating and Public Speaking Championship (WIDPSC).  The Team's eloquence and sharpness in debating skills are much acclaimed.
Speech Festival
Forty-six students participated in the 73rd English Speech Festival.
Most participants entered the solo verse speaking competitions and got the Certificate of Merit.  Two S4 students and one S6 student joined the dramatic duologue and bible speaking competitions respectively.  The list of winners is as follows:
| | | | |
| --- | --- | --- | --- |
| Class | Name | Event | Prizes |
| 2A | Wong Tsz Ching | Solo Verse Speaking | First Prize (Honor) |
| 5B | Chan Joyce | Solo Verse Speaking | First Prize |
| 4C | Pun Yuet | Solo Verse Speaking | Second Prize |
| 4C | Ip Yui To | Solo Verse Speaking | Second Prize |
| 2A | Lui Hang Nei | Solo Verse Speaking | Third Prize |
| 2C | Yeung Chun Hung | Solo Verse Speaking | Third Prize |
Empty tab. Edit page to add content here.