Counseling and Guidance Committee
Team Composition 
| | |
| --- | --- |
| Chairperson | Mrs. Chow Lo Yuen Shan |
| Vice chairperson | Mrs. Ng Lee Chui Chun |
| Form | Teachers-in-charge |
| 1 | Mrs. Chow Lo Yuen Shan |
| 2 | Miss Leung Yuen Man Cathy |
| 3 | Mrs. Ng Lee Chui Chun |
| 4 | Mr. Siu Wai Yee |
| 5 | Miss Hung Wai Fan |
| 6 | Miss Wong Yin Yu |
| Social Worker | Mr. Wong Kwok Fai |
| Student Counsellor | Miss Ng Hoi Ching |
| Ad-hoc member | Miss Ng Miu Yee |
| Ex-officio | Mrs. Chan Wong King Shan |
 
Little Angels Scheme
The Little Angels of S2-5 share their love with and give support to fellow students which help build a caring campus.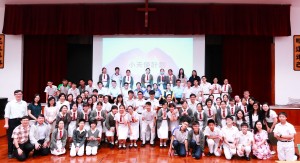 S1 Orientation Day
S.1 Orientation Lunch Gathering
Lunch gathering with class teachers and peer counsellors were held in September. This provided a chance for different parties to get to know each other better. The students got along well with the peer counsellors and were very willing to share with them.
Chatting with big brothers and sisters
S.1 Sex Education Workshop
The team invited End Child Sexual Abuse Foundation to conduct a workshop for S1 students on 29th June. Students learned about the proper attitudes towards sex and ways to protect themselves against sexual abuse.
Role Play