English Drama Team
Our Vice Principal Mrs. Ronica Chan, our team advisor Mrs. May Wong and three drama students (3B Lung Ho Yin, 3C Tseu Tsz Hong and 4D Wong Yuet Yi) were interviewed in January 2023 by the representatives of the Smart Education about how the school supports students' development in non-academic areas and what the advisor has done to drive students to perform well in competitions over the years. Our students shared with the interviewers what they have gained in joining the radio drama competitions.
The video and the text content will be published in different media channels such as Facebook, YouTube and magazines of the organization.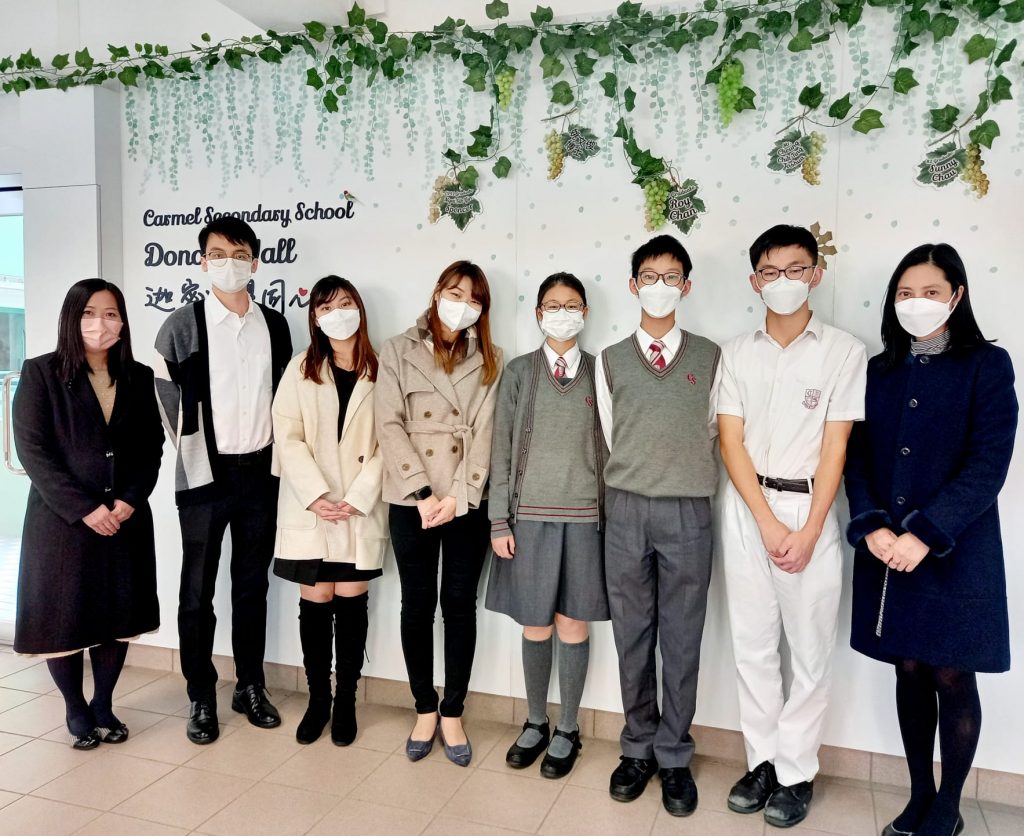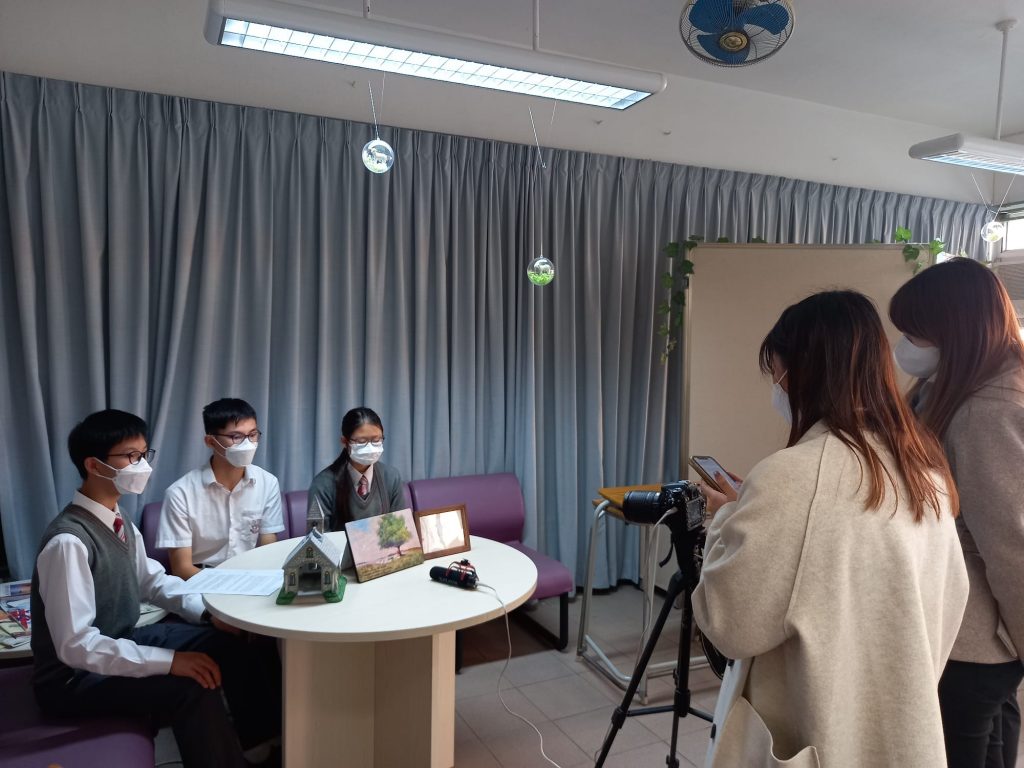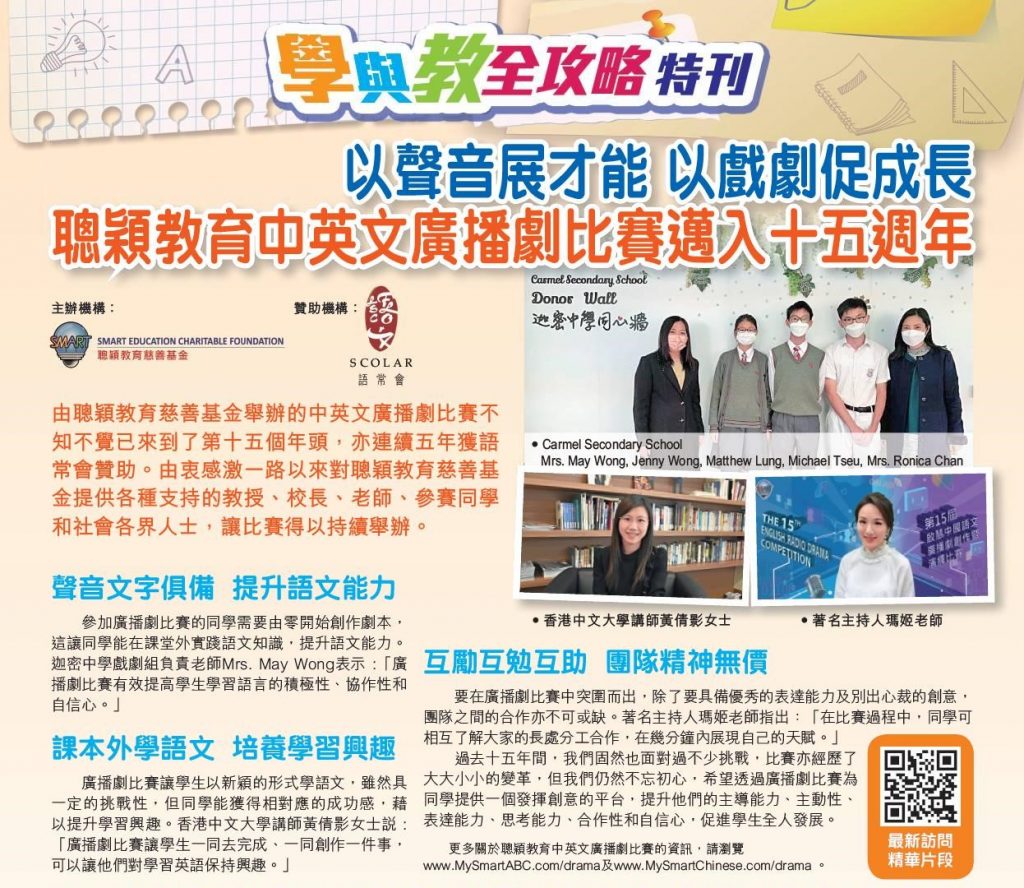 Below is the link for the interview on YouTube :
---

Our drama activities have been posted on the media coverage page of Quality School Improvement Project, Chinese University of Hong Kong.
https://www.fed.cuhk.edu.hk/qsip/media/2021-04_%E8%BF%A6%E5%AF%86%E4%B8%AD%E5%AD%B8english-drama-team-activities/
---
Speak Up – Act Out! On Air!  Improvised Drama Competition 2021-22
Six S3 students from the English Drama Team participated in the Improvised Drama Competition ("2021/22 Speak Up – Act Out! On Air!", 1-day category) and were awarded the Merit Prize.  The competition was organized by the Education Bureau's Native-speaking English Teacher (NET) Section.
The winners (Law Hoi Ka, Chiu Ching, Leung Hiu Yan, Yuen Man Hei, Lui Chi To, Yiu Cheuk Yin and Chan Long Ching from S3) wrote their radio drama script and performed it live, experimenting with different sound effects and voices to create settings and lively characters.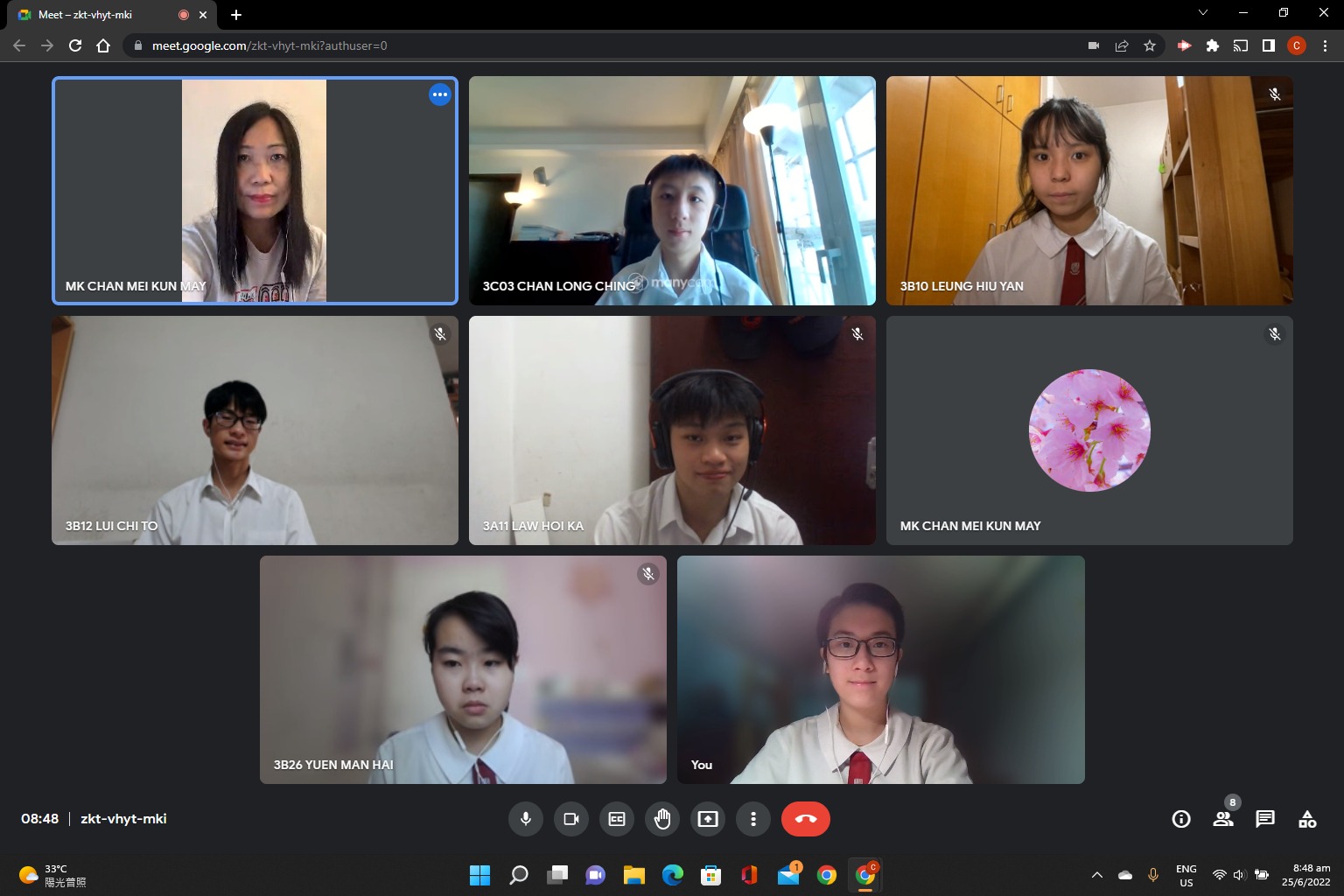 Winners of SUAO with the advisor Mrs. Wong
---
14th Radio Drama Competition
One S1 (Zhang Ming Yue) and four S2 drama students (Yee Wing Yan, Lung Ho Yin, Leung Tsz Ho and Hui Yan Nok) joined the 14th Radio Drama Competition and performed live in front of an audience and a panel of judges in the final competition at Chiang Chen Studio Theatre at The Hong Kong Polytechnic University in 2022.
The finalists got the Finalist Award and the Merit Award despite keen competition of over 200 teams from more than 70 schools.  The competition is organized by Smart Education Charitable Foundation and sponsored by SCOLAR (Standing Committee on Language Education and Research).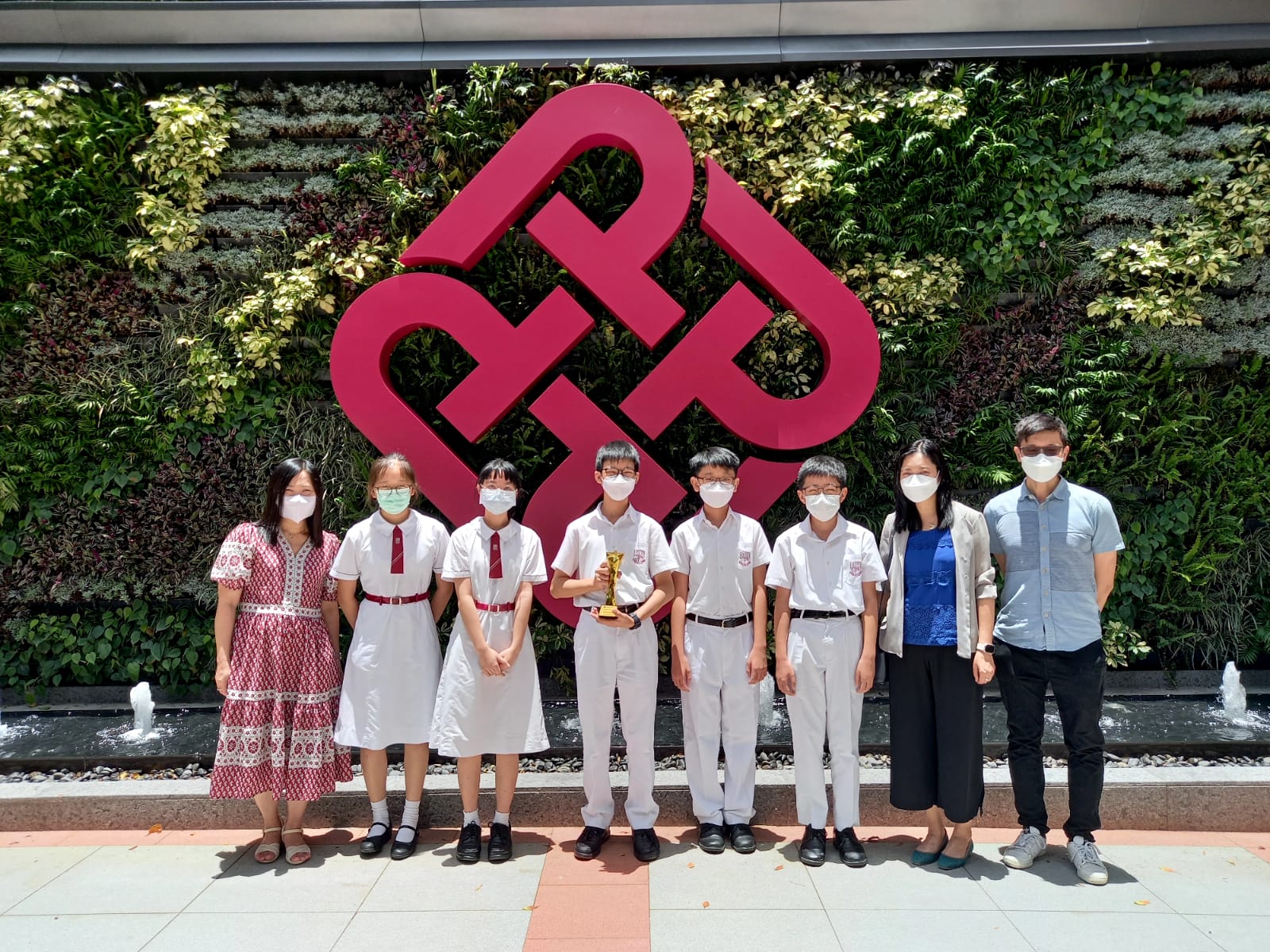 Winners with the advisor Mrs. Wong, Mrs. Chan (Vice Principal) and Mr. Lau (ECA Chairperson)                 
In 2022, the representatives of Smart Education Charitable Foundation presented certificates to the winners ((Zhang Ming Yue from S1 and Yee Wing Yan, Lung Ho Yin, Leung Tsz Ho and Hui Yan Nok from S2) of the 14th Radio Drama Competition. 
The advisor Mrs. Wong and the awardees of the competition were interviewed about how the competition helped improve students' academic performance and their intellectual and social development.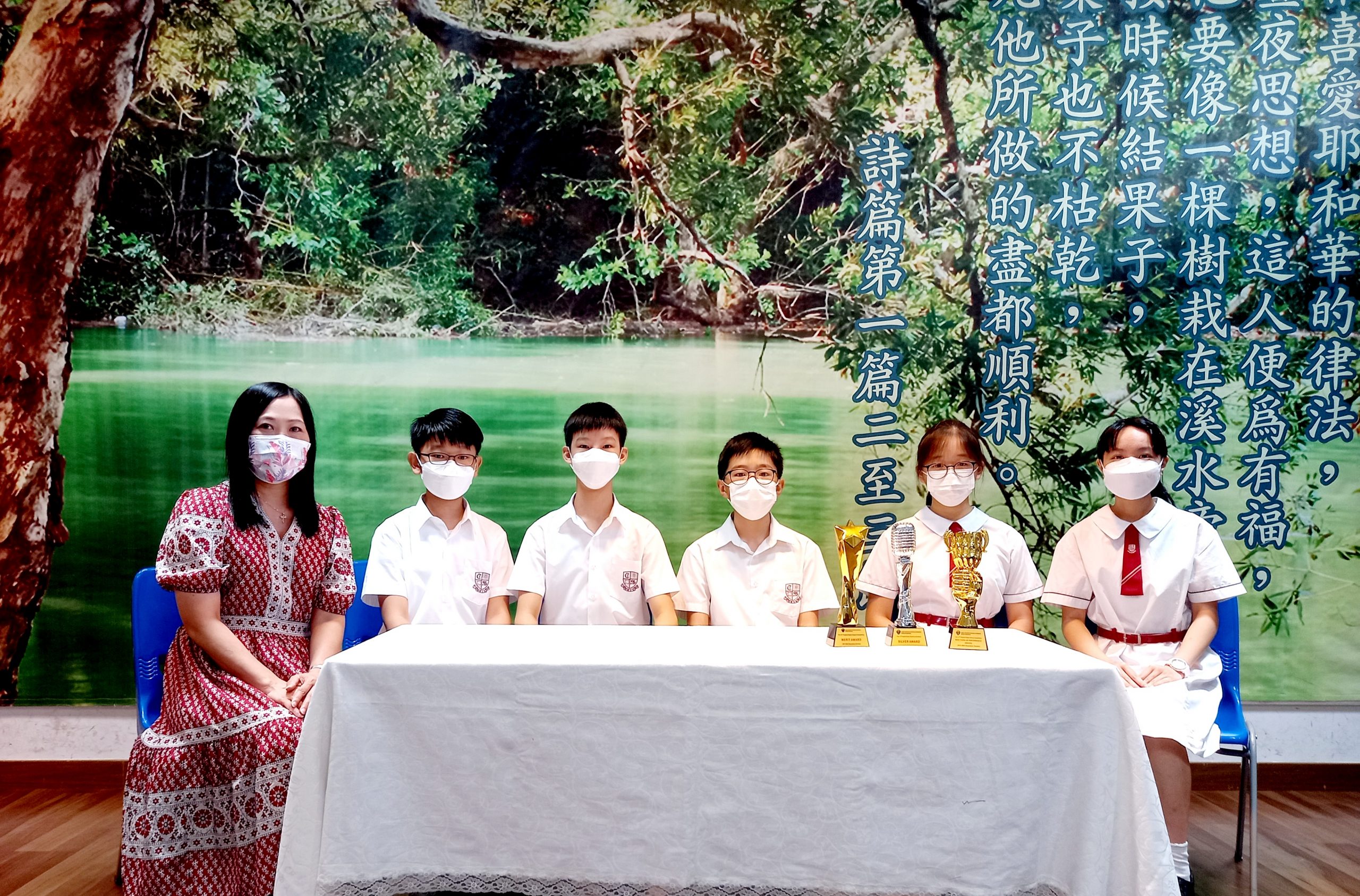 Advisor and winners of 14th Radio Drama Competition interviewed by Smart Education Charitable Foundation