English Debating Team      英文辯論隊
In 2017-2018, the English Debating Team has had another rewarding year taking part in a wide range of English debating contests and tournaments of various formats, from the locally familiar Australia-Asia style, the World Schools style to the British Parliamentary one. In the past year, some of the debaters even went the extra mile in oration and successfully delivered impressive performances.
I. Grand Champion, Hong Kong Secondary Schools Debating Competition 2017-2018
After winning all the preliminary rounds throughout the school year, our debaters broke into the Grand Final of the captioned Competition held in the City University of Hong Kong against Ying Wa College. After a hard-fought debate that afternoon, our Team eventually was crowned the Grand Champion. Our debate veteran, 5B David Tse was named the Best Debater in the Grand Final.
The debaters having taken part in the competition this year are 5B David Tse, 5B Cordelia Chan, 4A June Kan, 4B Isaac Lee, 3C Jora Yip, 2A Grace Ho, 2B Celina Deng and 2B Ryan So.
II. Overall Champion and Impromptu Speaking Champion, WIDPSC Junior Public Speaking Championships 2018
Our debaters do not only excel in debating, a niche form of public speaking, but also the wider forms of it. In the junior tournament adopting a simplified format of the World's Individual Debating & Public Speaking Championships, 2B Celina Deng emerged as a competitive public speaker in the three compulsory categories, namely Persuasive Speaking, Interpretive Reading and Impromptu Speaking, against fellow contestants of high-calibre from established and international schools. Celina eventually was crowned Champion in Impromptu Speaking and the Overall Champion of the tournament.
III. 3rd St. Patrick's Cup, Consulate General of Ireland in Hong Kong & Macau
a.      First runner-up, Debating Category
2A Grace Ho, 2A Serena Cheng and 2D Bianca Wong braced the challenge to debate diplomatic issues involving Ireland and Hong Kong in the St. Patrick's Cup against senior form debaters from other schools. They proved themselves by getting the first runner-up in the event.
b.     Second runner-up, Public Speaking Category
1D Cutler Ocean Leeanne made her debut as a secondary school public speaker at the captioned tournament. Despite her young age, she spoke eloquently about diplomatic matters, earning herself the second runner-up in the public speaking category in the event.
IV.             Other Debating Contests
In addition to the achievements above, our debaters also did outstandingly in many other debating contests and got recognized as best debaters in the many preliminary rounds.
Debate Tournament/ Contest
Award
Debaters (2017-2018)

Hong Kong Secondary School Debating Competition 2017- 2018

(Kowloon Senior Division 1)

Grand Champion

5B TSE David

5B CHAN Tsz Yau Cordelia

4A KAN Pik Kwan, June

4B LEE Wing Ho, Isaac

3C Jora YIP Tin Lam

2A HO Grace

2B DENG Sin Lam, Celina

2B SO Tsz Ho, Ryan

Best Debater (Grand Final)
5B TSE David
World Individual Debating and Public Speaking Championships (WIDPSC)- Hong Kong Junior Public Speaking Championships

Overall Champion
Champion, Impromptu Speaking
Ranking First, Persuasive Speaking

2B DENG Sin Lam, Celina
3rd St. Patrick's Cup English Language Debating and Public Speaking Competition 2018

First runner-up

(Debating)

2A HO Grace

2A CHENG Yui Hei, Serena

2D WONG Lok Yiu, Bianca

Second runner-up

(Public Speaking)

1D Cutler Ocean Leeanne
16th Senior Debating Championships 2018
Quarter-finalist

5B TSE David

5B CHAN Tsz Yau Cordelia

4A KAN Pik Kwan, June

4B LEE Wing Ho, Isaac

2B DENG Sin Lam, Celina

Hong Kong Barrister Association Inter-school English Debating Competition 2017-2018
Quarter-finalist

5B TSE David

5B CHAN Tsz Yau Cordelia

4A KAN Pik Kwan, June

14th Hong Kong Parliamentary Debating Society (HKPDS) Summer Workshop Championships
Quarter-finalist

6C LAM Tiffany Wing Ching

LEUNG Basil Justin Serrano

(alumnus; former Captain)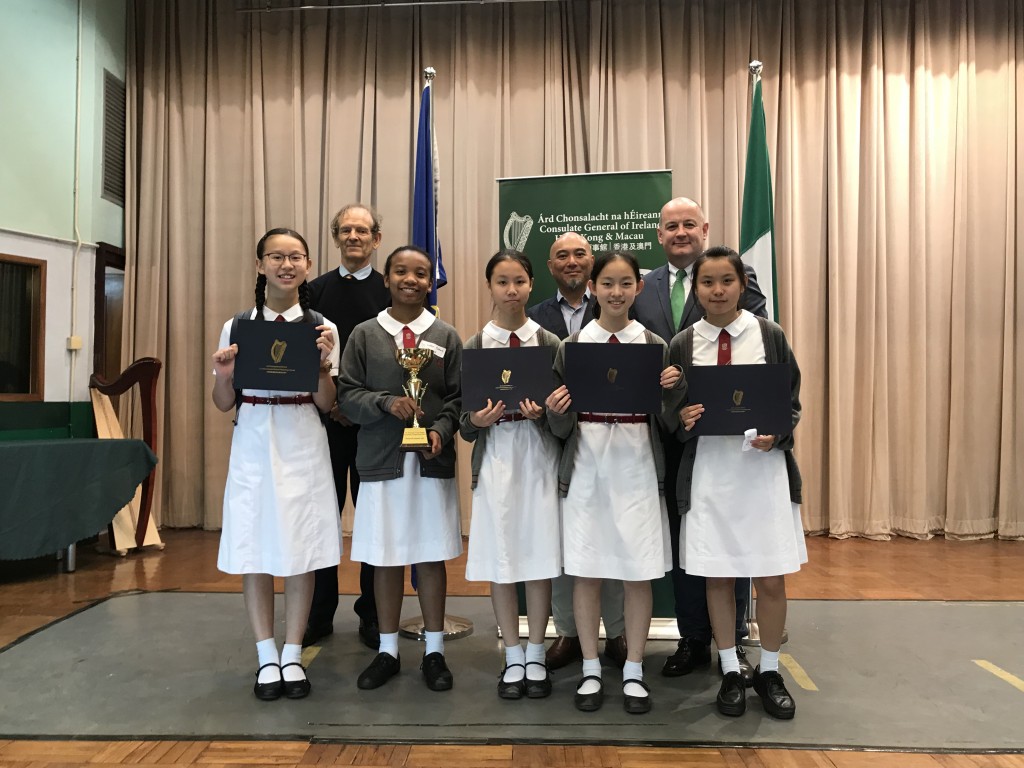 First runner-up in debating and Second runner-up in public speaking at St. Patrick's Cup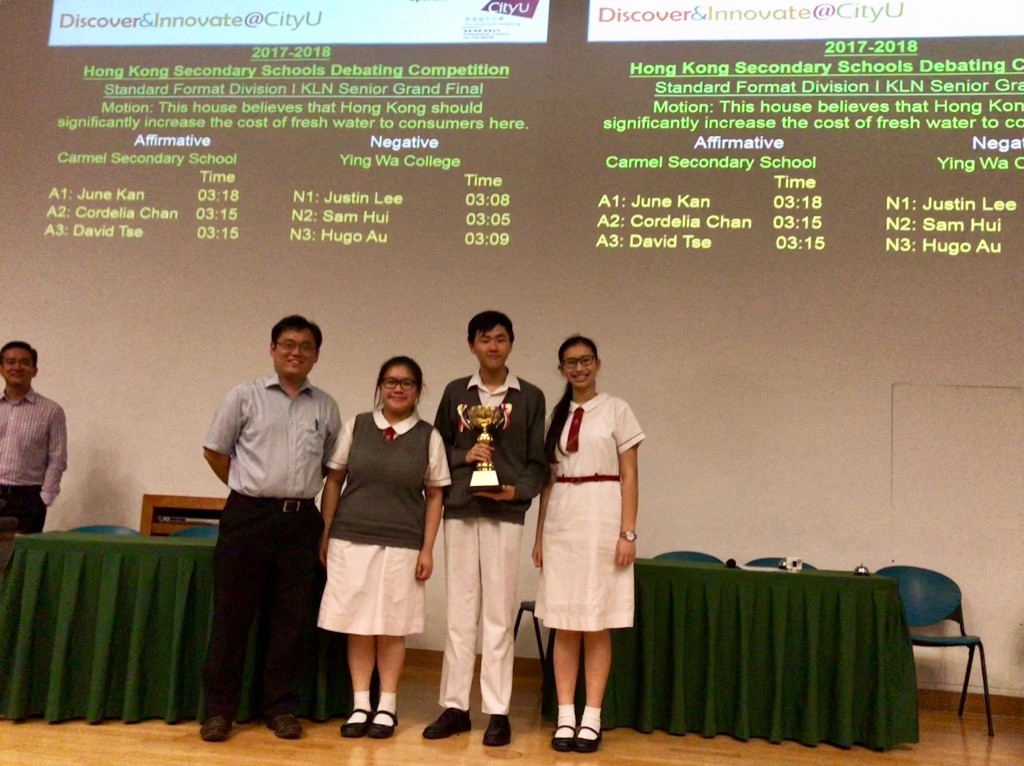 Grand Champion, Hong Kong Secondary School Debating Competition 2017-2018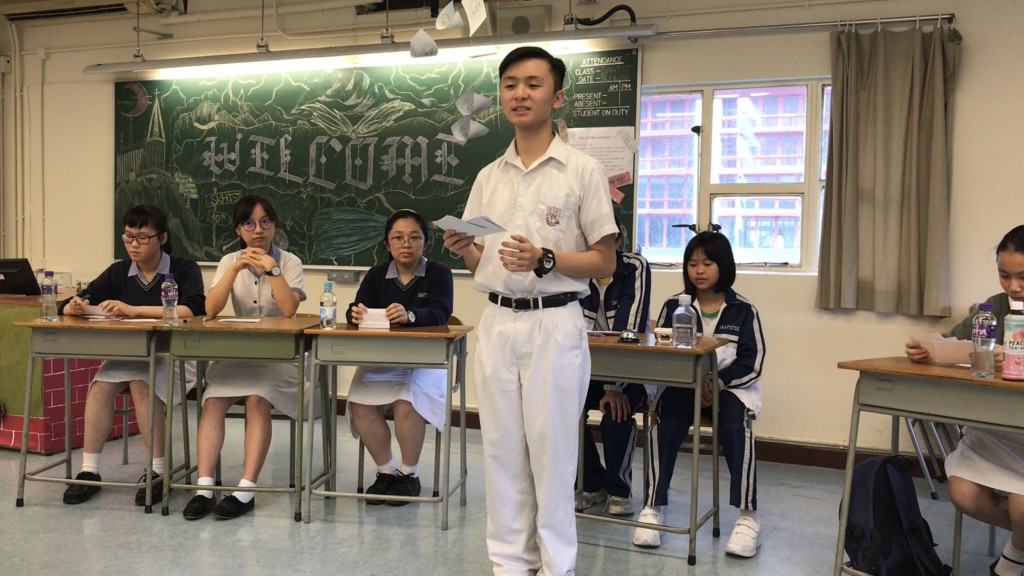 Isaac Lee debating eloquently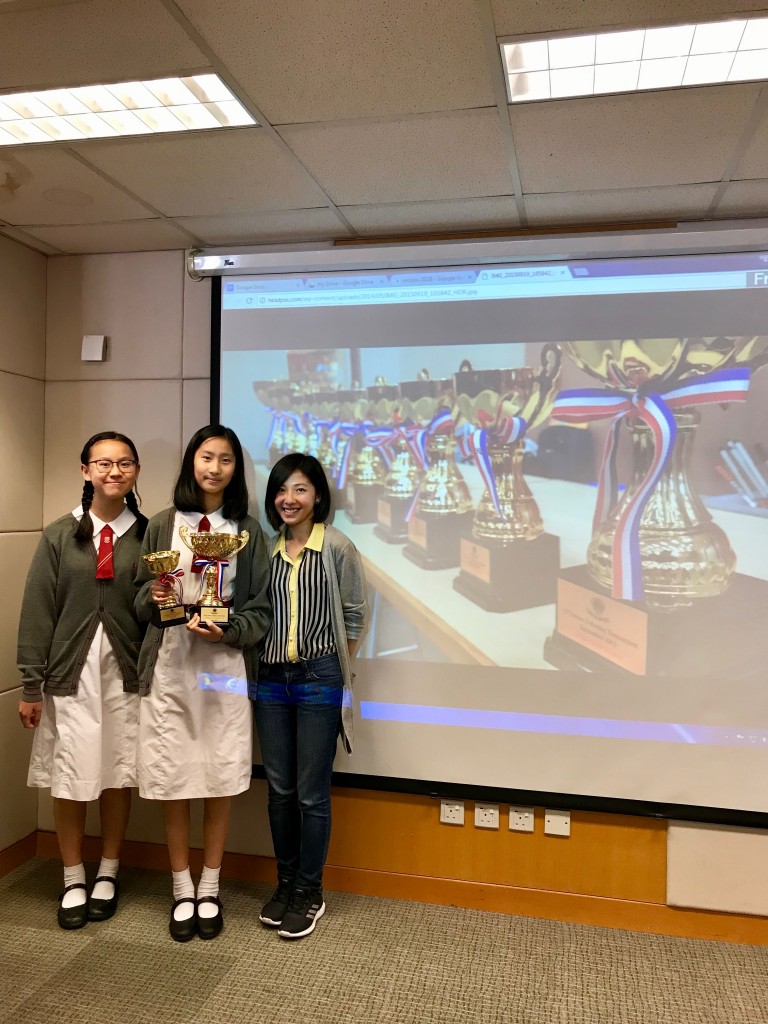 Kennis Cheung and Celina Deng took part in the Junior Individual Public Speaking Championships 2018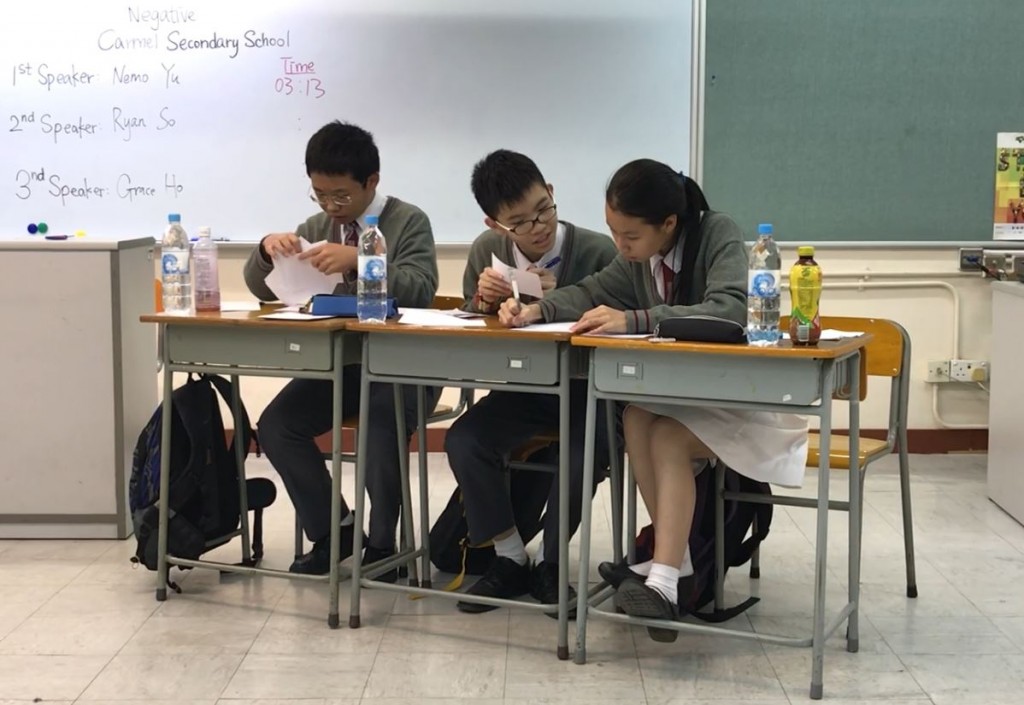 Nemo Yu, Ryan So and Grace Ho in the HKPTU Inter-school English Debate Competition