Civic Education Committee
Team Composition 
| | |
| --- | --- |
| Chairperson | Miss Wong Mei Sze |
| Vice chairperson | Mrs. Chung Lo Lai Shuen |
| Members | Ms. Mok Lai Sang |
| | Mrs. Wong Tang Poon Lin |
| | Mr. Lau Ho Yin |
| | Mrs. Yuen Wong Sau Lai |
| | Miss Ng Miu Yee (Ad-hoc member) |
| | Mrs Chan Wong King Shan (Ex-officio) |
 Mission and Objectives:
Nurture students to have a positive value system and positive attitude.

Encourage students to care for Hong Kong, and cultivate among students a stronger sense of belonging to China and be aware of their national identity.

Teach students the importance of environmental protection and encourage students to participate in recycling and using resources well.

Encourage students to join social services and be volunteers, which helps them to become pillars of society in the future.
---
Low Carbon Activities (低碳活動)
Low Carbon Day (低碳日)
---
Hydroponics 水耕
---
Drama-sustainable development 可持續發展話劇
---
The Green Earth Project 綠地球計劃
---
National Education 國民教育
| | |
| --- | --- |
| | |
| 國家安全教育活動 | 基本法填字遊戲比賽 |
| | |
| 基本法短劇演繹比賽 | |
---
Social Service 社會服務
Inclusion Experiential Activities 傷健共融體驗活動
Poverty Experiential Activities 體驗貧窮活動
---
Outstanding Achievements 傑出表現
2021 "National Security Education Day" Online competition
2021「全民國家安全教育日」網上問答比賽
The competition is organised by the Curriculum Development Institute of the Education Bureau and was completed in December 2021.
Two of our students were awarded the certificates of appreciation:
5A Yam Tsz Ying from Class     6B Sze King Shing from Class
此比賽由教育局課程發展處主辦,至2021年12月才圓滿結束。
本校有2位同學獲嘉許狀:5A 任芷盈     6B 施璟成
---
Basic Law Student Ambassadors Training Programme "Question and Answer Design Campaign for Knowing Your Country on Constitution Day"
《基本法》學生校園大使培訓計劃 2022「憲法日認識國家 問答設計大行動」
4D Wan Chiu Tung from received the "Best Performance Award for Secondary School Students".
4D 萬昭彤同學獲得「中學組學生最佳表現獎」
---
6D Andy Tsang has been awarded 2022 CYC Outstanding Member.
6D曾志鵬 獲得2022年公益少年團傑出團員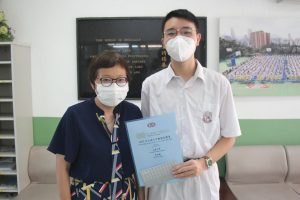 ---
Useful links
1. 環保生活錦囊
https://www.housingauthority.gov.hk/mini-site/greenliving/tc/common/green-living.html
2. 減廢
https://www.wastereduction.gov.hk/tc/index.htm
3. 咪嘥嘢校園
http://www.ecc.org.hk/wasteless/news.php
4. 香港物種
http://www.afcd.gov.hk/tc_chi/conservation/hkbiodiversity/speciesgroup/speciesgroup.html
5. 龍虎山環境教育中心
https://lungfushan.hku.hk/resources?field_resource_genre_tid=12&field_resource_type_tid=All
6.環保新聞